Flat Table Mobile Toolbox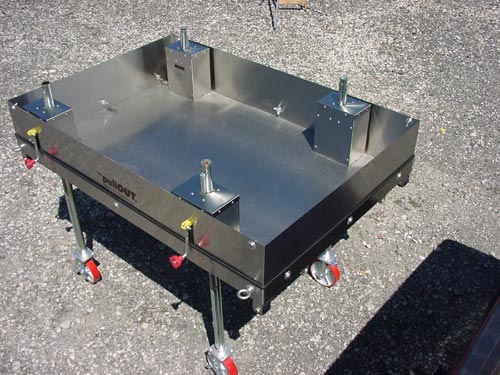 The work table model allows you to have full access into the Pull Out unit from all sides, whether it is in your truck, your garage or at a job site. It can be customized to fit the particular needs of anyone. It can be used to store and transport any tools, materials or equipment. The Pull Out can also be transformed into a workstation, providing a sturdy level surface on which to work. The Pull Out also helps to better organize your tools and equipment.
The work table Pull Out unit replaces all of the old saw horses. Now you can used an all new stainless steel work table at the job site for years of services. As for the setup, pull the work table out of the truck and it's ready to go that is it!
The work table Pull Out unit can be customized to fit the particular needs of the user. As an empty utility work table, it can be used to store materials, tools or anything else. The unit pulls out leaving the pick-up truck free for other uses. The Pull Out work table can be transformed into a tailored workstation; and, it can be outfitted with a variety of tools and equipment to fit the needs of the user or anything else the user can imagine putting into it. The side panels can be added to turn the work table into a box for storing items.
Manual Jack
The Manual Jack is used to manually lower and raise the Pull Out unit jack legs.
Can be loaded or unloaded in minutes

Can be used with existing pickup truck tool box

Provides stable, heavy duty on-site working area

Easily organize your tools and equipment

Fully water resistant

One person can insert and remove the Pull Out

Approximately 20 to 50 cubic feet of storage room

The Pull Out is a mobile stainless steel flat work table, allowing a craftsman to move everything he or she needs for the job, including tools and parts directly to the job site with minimal effort

The Pull Out enhances the user's productivity.

The Pull Out allows the work vehicle to be used for other purposes with total hauling capacity.

The Pull Out eliminates trips to and from the vehicle.
"Stainless Steel Flat Table Unit"
In which the unit is flat to work on, like a table with saw horses.
Dimensions – Flat Table Unit
Jack legs: manual worm gear legs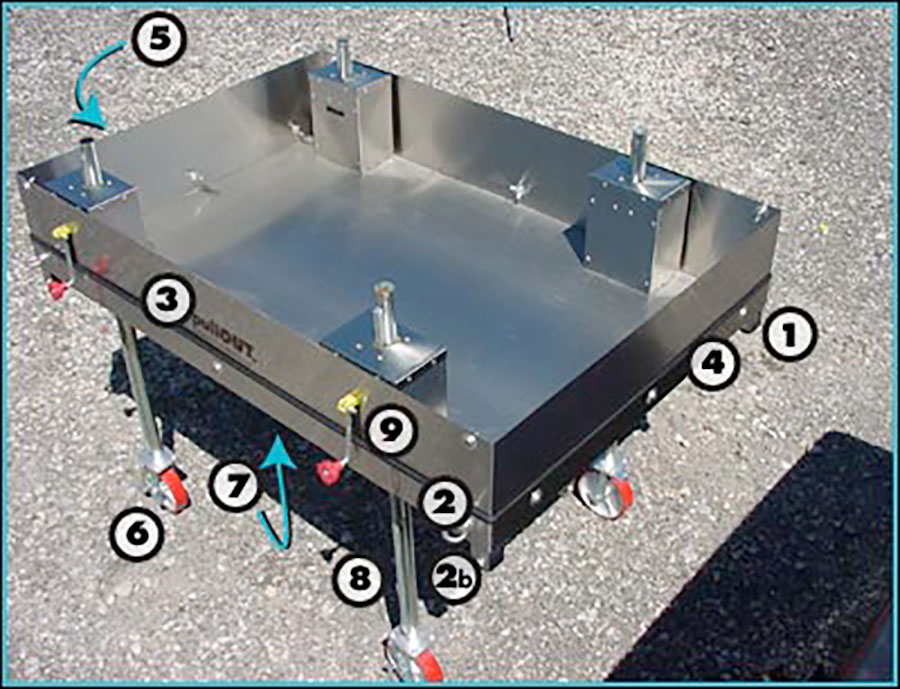 Rear Rubber Bumber
The rear rubber bumper stops the Pull Out when you put the unit back into truck.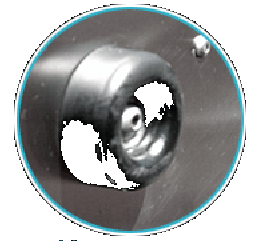 Safety Eye Hooks
The safety cables connect to the stainless steel eye hooks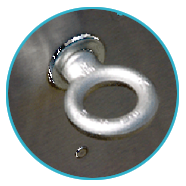 Safety Cable
High tension safety cable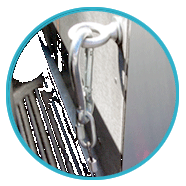 Left/Right Side Panel
The side panels of the flat table pull out unit can be taken off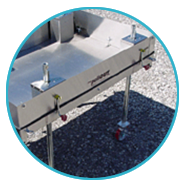 Front/Back Panel
The front and back panels of the flat table pull out unit are inserts and can be taken off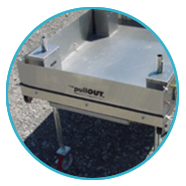 Slide Out Table
The steel slide out table is 6 feet long and can hold up to 200 pounds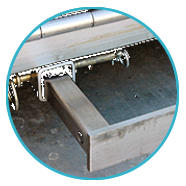 Hard Rubber Wheels
The wheels are made of hard rubber material and can roll over up to rain easily with not much effort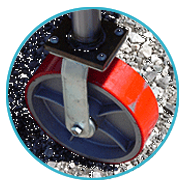 Nylon Roller Bearings
The nylon roller bearings help roll the Pull Out unit in and out of your truck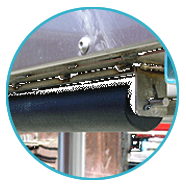 Manual Jack Leg
Zinc coated steel legs that slide down when cranking the manual jack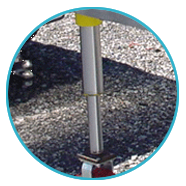 Manual Jack
The manual jack is used to manually lower and raise the pull out unit jack legs